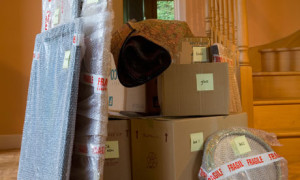 So you've finally sold your house, congratulations! Now you've got the unenviable task of packing years of 'stuff' into boxes ready for your move. One of the questions we get asked a lot here at On The Move Removals is when is the right time to start packing?
The reality is that it's never too early to start packing and you should look to start as soon as you know you're going to be moving. Packing isn't an easy job and what often looks at first like just a few rooms worth of items almost always turns out far more than you ever imagined. Often many people start way too late and soon realise that that they're in over their heads and they haven't given themselves sufficient time to complete the task. Therefore they end up either not finishing it, or doing a shoddy job with no form of packing inventory.
In addition, packing early is one of the best ways to limit breakages and damages as you've got time to pack items properly and thoroughly. The bottom line is that late packing can not only be incredibly stressful but it can end up costing you a few dollars in breakages and damages too. So why would you put that extra stress on yourself?
Often there's the problem of knowing where to start, after all, you don't want to start packing items you're still using right? With this in mind it's always best to start by packing items that you aren't really using like your gran's hand-me-down tea service which comes out of the cupboard once a year at Christmas. Alternatively if you have a spare junk room or loft space, then start there and when all is packed then you've got a perfect space to store the packed boxes in. That way you're not cluttering up the rest of your property.
As time gets nearer, you'll have to start packing away items that you use more frequently, such as clothes, kitchen paraphernalia including pots, pans and utensils, and books or games. If this is the case then pack as much as you can but to save having to root through boxes to find your antique melon baller make sure that you can do without it for the duration until you get to unpack the other end.
Finally at the last minute look to pack the items you'll need first the other end. Equipment such as kettles, coffee/tea making equipment, wash gear, a change of clothes and any mobile devices should be packed in a box marked 'essentials'. This should go on the truck last or better still in your car, so that you can access it immediately you get to the other end.
On The Move Removals have been successfully moving the people of Brisbane, the Gold Coast and the Sunshine Coast for many years and as such offer the highest quality service at the best possible price. Why not contact us today on 1300 66 84 36 for a competitive quote today. Trust us…You'll be glad that you did!