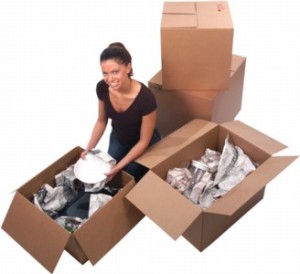 You can never have too many boxes! Well, at least when you're moving anyhow. The trouble is that if you have to buy them, proper packing boxes can be expensive. This being the case, just how do you go about begging, borrowing or stealing boxes? Before we go any further our lawyers told us to say that we're not by any means advocating stealing, but you kind of get the drift right!
Ask those that have recently moved
Anyone who's recently moved will know that they're likely to have a mountain of boxes that they're going to have to get rid of. Either that or face the fear that they're eventually going to multiply and take over the entire house! With this in mind, anyone who comes along and asks to take them off your hands is going to be more welcome than a long cold drink in the middle of the Outback.
Google it!
Praise be to the modern age for thinking up the internet! Nowadays you can find information on pretty much anything imaginable. Places such as Freecycle, U-Haul Exchange and even Craigslist are all good 'go to' places to find boxes for free. You should be able to set filters specifically for your area, so you won't have to travel too far. One thing though! We're not guaranteeing the functionality or quality of the said boxes, so it's worth taking a closer inspection first.
Bricks and mortar places
Bricks and mortar places have stock deliveries and probably lots of them, especially if it's a supermarket. As a result it's probably a given that they're going to have wall-to-wall spare boxes and are only to happy to get rid of a few. As an example McDonalds have an entire Facebook group dedicated to the type of boxes available (yes, I've checked) and the quality of them is said to be pretty good.
So there you have it, 3 great places that you can obtain boxes for free. Alternatively if you don't have the time or simply can't be bothered to source free boxes, then any reputable removalist will offer packing materials including boxes as an add-on fee. If you're cheeky you could always ask them if they'll buy the unused boxes back again at the end of your move.
If you want your move to go without a hitch and you're relocating within the Brisbane area then contact On The Move Removals. As a local company we have many years in the industry and as such have become your 'go to' removalist of choice. Why not contact us on 1300 66 84 36 for a competitive quote today. You'll be glad that you did!