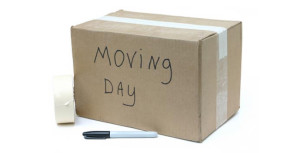 Here at On The Move Removals we've been helping people and businesses with their local moves for many years and over this time we've seen how easy and stress free it can be if people are organised. With this in mind, we thought it would be a good idea to write an short article about common mistakes that customers make when moving house, so that you can avoid them in the future.
Not labelling up boxes
If you want to save time, then it's important to label up your moving boxes. You can be as detailed as you like, but as a minimum the boxes should be labelled up with the room that you'd like them to be put in when you arrive at your new house, and a brief summary of contents. This is going to save a lot of time for both you and your removal company, especially if you're being charged by the hour.
Not reading the meter before you leave
Let's face it, nobody likes to be overcharged for their utility bills, yet by failing to report your utility readings when you move, it's easy to see how you'd be charged for gas and electricity even though you no longer live there.
Failing to plan
One of the biggest stresses when moving comes when a person fails to plan. Trying to wind down your life in your old house takes time and planning. After all it's no good disconnecting your washing machine a month before you move or packing up the freezer so that you have no frozen food available for those busy nights ahead when you need something quick and easy. Think about what you need to do and more importantly when you need to do it and everything else should fall into place.
Redecorating after you've moved in
If you simply can't live with that tan coloured carpet and purple walls of your new house, then if it's possible you might want to consider getting it carpeted and painted before you move in. If you wait until after your house move, then you're going to have to shift everything out again to get it done.
Not setting up new services before your move
It's inevitable that if you need new services such as broadband connection, phone lines or satellite that there's a delay while they arrange to slot you in. As a result you could be waiting a while without these type of services. By contacting suppliers before you move and arranging for them to either come on the moving day itself or the day after, it means that you won't be without internet connection any longer than you have to be.
If you need any more tips and advice regarding moving home or business, then check out our website at www.1300onthemove.com.au where you can find a wealth of useful information. Alternatively if you'd like a competitive quote for a local move them contact On The Move Removals on 1300 66 84 36 today.